NPowerTray is a small tool that shows a Tray icon with the standard power options.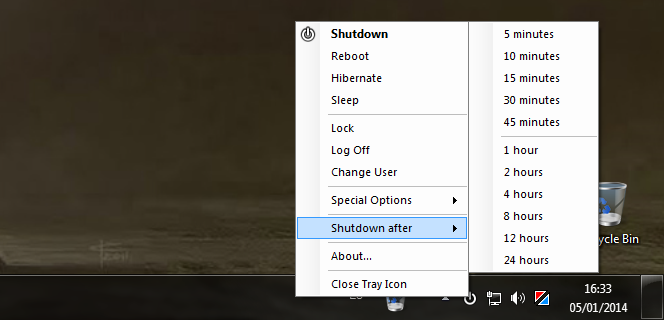 (The Menu, as of version 1.6.1.0)

(The About Box, as of version 1.6.1.0)
Download Link
You can download NPowerTray here. It does not require any kind of installation, just extract into any folder and run.
You can set the tool to run at startup from the about box.
Source Code
The source code for the current version is available at the download link above, under a 3-clause BSD license. To get the latest source, including unreleased changes, click here.
Supported Languages
English (default) by David Quintana.
Spanish by David Quintana.
Italian by Pietro Roberto Minali.
German by Norbert Schmidt.
Note
This tool requires the Microsoft .NET Framework 4.0 Client Profile, included on Windows 8 by default.
If you want to install the tool in a previous version of windows, you will need this.
A standalone installer is also available here.